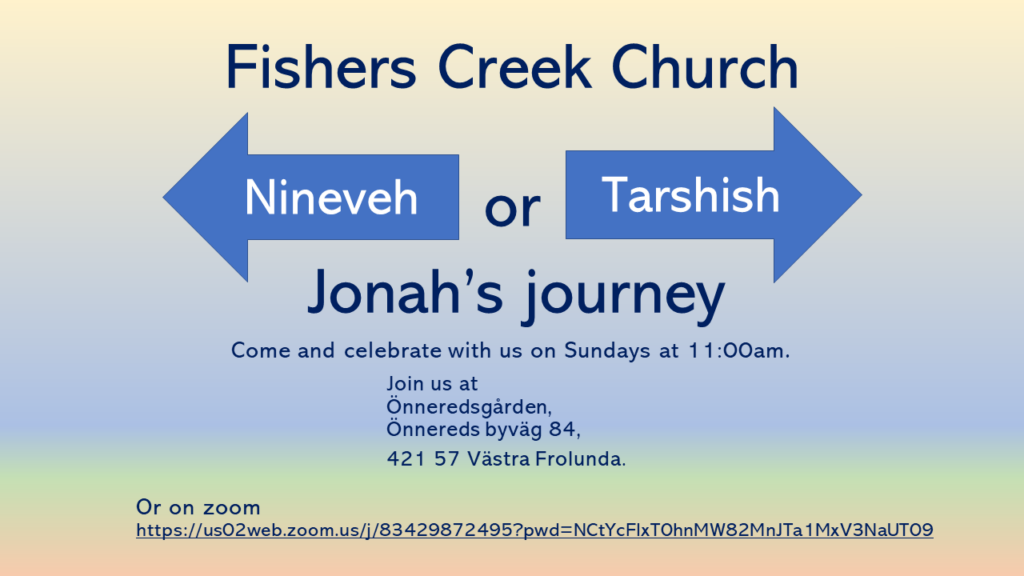 We are excited to announce that we are starting a new Sunday service series based on the book of the Prophet Jonah come Sunday 13th June, 2021 at 11:00 am. You are welcome to join our 'hybrid' setup either at the Fisher's Creek International Church located at Öneredsgården, Önereds byväg 84, 421 57 Västra Frölunda or via our Zoom link below.
Zoom: https://us02web.zoom.us/j/83429872495?pwd=NCtYcFlxT0hnMW82MnJTa1MxV3NaUT09
Covid-19 updates
For the onsite Church meeting, we continue to exercise caution with regards Covid-19 and try to keep a safe distance as we are now allowed to meet in small groups of up to 50 people.
We also have the option to join on-line via the Zoom link above. If you are new, you are welcome to join us either at the church or online. Feel free to contact us if you need any guidance or further information.